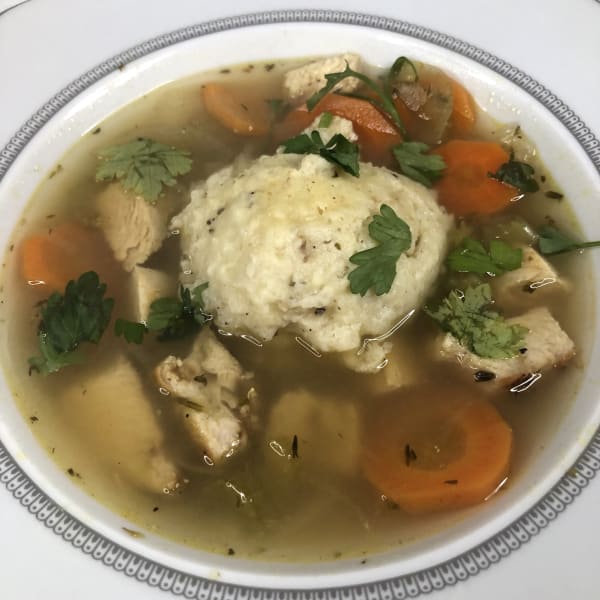 Fluffy Matzo Ball Soup
---
Prep time

1 hr 0 mins

Cook time

2 hrs 0 mins

Total time

3 hrs 0 mins

Yields
Ingredients
Chicken Brine
Soup
Matzo Balls
Garnish
Instructions
Chicken Brine
Combine the chicken, salt, sugar, and water to brine in a large bowl
Add the chicken to the brine.
Cover with plastic wrap and refrigerate for at least 30 minutes or until the matzo balls are made, whichever is longer.
Soup
Bring water to a boil on high heat and add in the onions, carrot, celery, Better Than Bouillon, bay leaves, dried oregano, salt, dried thyme, black pepper, dried rosemary, and fresh dill.
Stir and reduce heat to medium-low.
Reserve some soup broth for matzo balls.
Cover and simmer for 1 hour.
Matzo Ball
Add eggs and vegetable oil to a large bowl and beat the eggs.
Combine all ingredients except for the soup broth and mix until uniform.
Add the soup broth and mix until well combined.
Cover with plastic wrap and refrigerate for at least 30 minutes.
Cook the Chicken
Remove the chicken from the brine and pat dry.
Using a cast iron pan or skillet on medium-high heat, add enough oil to coat the bottom of the pan.
Sear the chicken on both sides until brown and place on a plate/bowl to cool. Continue until all the chicken pieces are done. Add more oil to the pan in between batches if needed.
After all the chicken is cooked, cut the chicken into chunk size cubes.
When the soup is done, turn off the heat, remove the lid, and add the chicken and any additional juices on the plate/bowl to the soup. If the heat or lid is left on, the chicken can become dry.
Cook the Matzo Balls
Using a wide pot with a high rim, bring about 2-3 inches deep of water to a boil
Lower the heat to a simmer and add some salt.
While the water is simmering, remove the matzo ball mixture from the fridge.
Moisten hands and form 1 inch balls.
Alternatively, you can use a 2 tbsp cookie scoop to quickly portion out the balls. Place balls onto a plate or baking sheet until all the mixture is used. Then, wet your hands and shape each portion into a ball.
Place the matzo balls into the pot and cook for 20 minutes with the lid on.
Gently flip the matzo balls after 10 minutes if they have not turned on their own.
Remove one matzo ball and cut it in half to make sure soft throughout. The center should be slightly darker than the outside of the ball. If this is not the case, continue cooking for another 5 minutes.
Use a slotted spoon to remove the balls from the water and transfer them into the chicken soup.
Garnish
Garnish with dried parsley, fresh parsley, or roughly chopped dill on top.
Enjoy!
---
Nutrition
Servings: 24 ・ Calories: 158 kcal ・ Carbohydrates: 8 g ・ Protein: 13.6 g ・ Fat: 7.8 g ・ Sodium: 1005 mg ・ Fiber: 1.2 g
Nutritional values are estimates only. See our
full nutrition disclaimer here.